If you ever wanted to play Mario Kart in your living room or anywhere else, this is the best gadget for you!
Mario Kart Live: Home Circuit will give you a chance of creating your own course on the flor. Everything controlled with the use of your Nintendo Switch and with the additional help of Augment Reality to give you the best experience you can expect.
You can race against opponents using a physical Mario Kart. Your kart responds to boosts in-game and in the real world, stops when hit with an item, and can be affected in different ways depending on the race.
Players place gates to create a custom course layout in their home. The only limit to its style is your imagination. You can even try and recreate some of your favorite courses from Mario [but remember to get some extra details – those are not included inside a box, you know, figurines, etc].
Race against Koopalings in Grand Prix to unlock skins to customize courses and costumes for Mario and Lugi, and play with up to four players in local multiplayer mode.
Worth to mention that you need some space to set up everything and to be able to experience some fun with it. Those of you who have a carpet may find it difficult, because we know how difficult is to operate RC c
Are you Ready? Set-up and go! Mario Kart Live: Home Circuit races onto Nintendo Switch and into your home starting October 16th!
Where to buy/pre-order Mario Kart Live: Home Circut in the UK:
Nintendo UK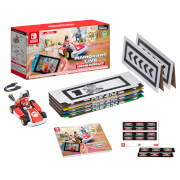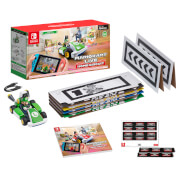 ShopTo

GAME

Amazon UK

Where to buy/pre-order Mario Kart Live: Home Circut in the US:
Where to buy/pre-order Mario Kart Live: Home Circut in the Japan: