Super Mario 3D All-Stars, optimized versions of 3d Super Mario games like Super Mario 64, Mario Sunshine, and Super Mario Galaxy for Nintendo Switch.
This is very good news for all Mario fans around the world. Also, this looks like a wise move from Nintendo because a lot of fans start creating their own ports and finally Nintendo decide to release their own, but this is a limited opportunity. Super Mario 3D All-Stars launches for the Nintendo Switch on 18th September.
The physical edition is a limited-time-only production, and the digital version will be a limited-time-only release until the end of March 2021.
So if you're waiting to pick up either one of these, heads up to Nintendo Store or other retailers and grab your copy [Links below the post].
Super Mario 3D All-Stars comes with all three games optimized for Nintendo Switch, higher resolutions than their original version, smooth gameplay experience on Nintendo Switch, and some extras like in-game music player mode to play the music and songs from all three games.
A nice feature is that you can listen to music on your console when the screen is off – sounds cool, right?
If you're a new fan to the Super Mario series and you never got a chance to play any of these games, now you have a chance.
But if you are a Super Mario veteran, then be honest, this one is a must-have. Of course, it isn't the same as playing game on Nintendo 64 or GameCube but still a wise move from Nintendo.
Super Mario 64 – has been released in 1997 for Nintendo 64
With a timeless control scheme that's featured in every one of his 3D outings since, Super Mario 64 marked Mario's glorious debut into the world of 3D. Wall jump, backflip and even fly as you explore paintings around Princess Peach's castle to collect Power Stars and stop Bowser!
Super Mario Sunshine – has been released in 200 for Nintendo GameCube
Time to hit the beach! Mario travels to the beautiful Isle Delfino for a tropical vacation with his friends, but instead finds himself teaming up with trusty F.L.U.D.D. to uncover a shadowy plot and the master puppeteer behind it all. His newfound friend also allows Mario to traverse worlds in all sorts of unique ways thanks to its wonderful water pump!
Super Mario Galaxy – has been released in 2007 for Nintendo Wii
Mario blasts off on an intergalactic quest to help Rosalina and save Princess Peach from Bowser's assault of astronomical proportions. Defy gravity and hop across planets with optional motion controls, or pass a Joy-Con controller to a friend for some extra help in Co-Star Mode!
Where to buy/pre-order Super Mario 3D All-Stars
Nintendo UK: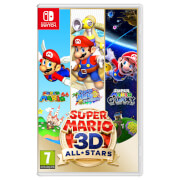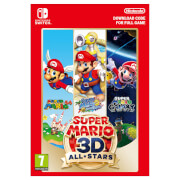 ShopTo:
Game:
Amazon UK:
Amazon US: