Super Mario 3D World was one of the best titles for Nintendo Wii U, and it's coming to Nintendo Switch.
A new and enhanced version of Super Mario 3D World, which originally launched for Wii U, features co-op gameplay both online and through local multiplayer in a variety of creative levels. Additional details about what new things this game has to offer will be revealed later.
Prepare for multiplayer mayhem pounces onto Nintendo Switch!
Super Mario 3D World + Bowser's Fury launches for Nintendo Switch on 12 February 2021.
But this isn't everything, a New Cat Mario and Cat Peach amiibo will also be released as a double pack at the same time as the game.
Screenshots:
Where to Buy/Pre-order Super Mario 3D World + Bowser's Fury in the UK:
Nintendo UK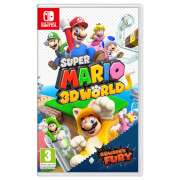 ShopTo:

GAME:

Amazon UK:

Where to Buy/Pre-order Super Mario 3D World + Bowser's Fury in the US:
Amazon US:

Where to Buy/Pre-order Super Mario 3D World + Bowser's Fury in Japan:
Amazon Japan